Dr Ruojun Wang and Professor Ruoyu Li
Department of Dermatology
Peking University First Hospital
Beijing, China
Case details
A 70-year-old woman presented with chronic ulcerative nodules on her lower extremities at the outpatient clinic. A tender red nodule developed on her left anterior tibial region a month ago, which gradually enlarged; spontaneous ulceration of the nodule and occasional pain were reported. The lesions did not respond to topical antibiotics, and more nodular lesions appeared in the mid-calf area and spread to her toes. Her medical history included kidney transplantation 6 years ago, chronic tinea pedis and onychomycosis.
Physical examination revealed multiple firm, 2 to 4 cm, verrucose to dome-shaped, red nodular lesions, with an infiltrative erythematous base on her left lower leg. Some lesions were ulcerated with clear to yellow exudations and crusts. Several small red nodules were also found on the dorsal side of the toes (Figure a). Biopsies were obtained from the lesions and microscopic examination revealed pseudoepitheliomatous hyperplasia and extensive infiltration of neutrophils, plasma cells, histiocytes and multinucleated giant cells in the dermis (Figure c). PAS stain highlighted fungal hyphae inside a neutrophilic microabscess (Figure d). An examination of the lesion scales with potassium hydroxide showed hyaline septate hyphae. Fungal culture grew Trichophyton rubrum. The patient was administered terbinafine 250 mg twice daily for 11 months, resulting in complete remission of the lesions (Figure b).
Figure. Skin lesions on left lower leg (a) before and (b) after treatment; (c) pathological findings showing extensive inflammation (PAS, x40); (d) fungal elements (PAS, ×400).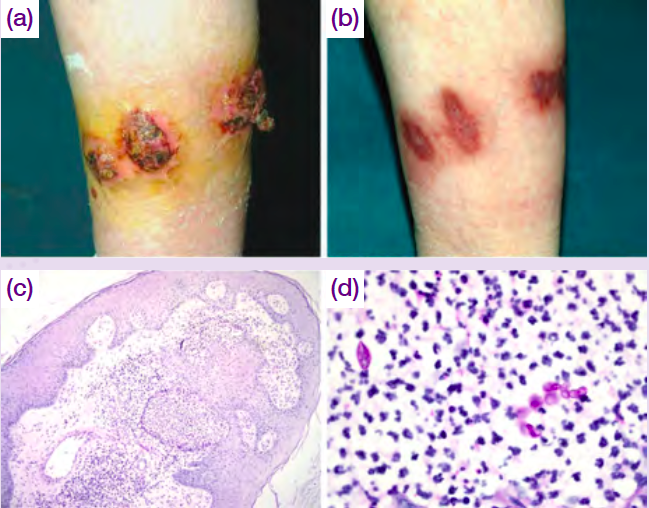 Discussion
Deep cutaneous and subcutaneous infection caused by dermatophytes is rare and usually occurs in immunosuppressed individuals. There are 3 well-described forms of deep dermatophyte infections: Majocchi's granuloma; deep dermatophytosis; and disseminated dermatophytosis.1 Unlike Majocchi's granuloma, which is a granulomatous folliculitis and perifolliculitis of the dermis, deep dermatophytosis is not necessarily associated with hair follicles.2 The diagnosis is mainly established based on pathological findings and fungal culture. Pseudomycetoma is a granulomatous or pyogranulomatous reaction that usually surrounds dermatophytic fungal hyphae. It shows some variations from other types of deep dermatophytosis, characterized by the presence of Splendore-Hoeppli phenomenon on histopathology.3
Cases of deep dermatophytosis could present with different immune status, clinical and histological presentations, and pathological agents. Dermatologists must be aware of this heterogeneity of deep dermatophytosis, and be alerted to the possibility of this disease, especially in patients with preceding superficial fungal infections.2
References
Su H, Li L, Cheng B, et al. Trichophyton rubrum infection characterized by Majocchi's granuloma and deeper dermatophytosis: case report and review of published literature. Mycopathologia 2017;182:549-554.
Kershenovich R, Sherman S, Reiter O, et al. A unique clinicopathological manifestation of fungal infection: a case series of deep dermatophytosis in immunosuppressed patients. Am J Clin Dermatol 2017;18:697-704.
Castro-Echeverry E, Fiala K, Fernandez MP. Dermatophytic pseudomycetoma of the scalp. Am J Dermatopathol 2017;39:e23-e25.