Dr Methee Chayakulkeeree
Associate Professor
Division of Infectious Diseases and Tropical Medicine
Faculty of Medicine Siriraj Hospital
Mahidol University
Bangkok, Thailand
Worldwide, candidemia affects over 250,000 people per year, leading to more than 50,000 deaths.1 Key risk factors are largely healthcare-related, including critical illness (particularly long-term stay in the intensive care unit), abdominal surgery, broad-spectrum antibiotic use and central vascular catheter/total parenteral nutrition.1,2
In general, these risk factors appear to be similar in Asia, as compared with Western countries. Despite this, the incidence of candidemia appears to be higher in Asia – ranging from 0.39 to 14.2 cases per 1,000 admissions/discharges, compared with incidences typically below 1 case per 1,000 admissions/discharges in Western countries.3,4 Potentially modifiable causes of this disparity may include: limited awareness in fungal diseases; overuse and/or misuse of antibiotics and corticosteroids; suboptimal infection control; and the use of management strategies that are largely based on clinical assessment and empiric therapy.3
Species distribution
Two recent studies have examined the distribution of Candida species across multiple Asian countries.4,5 In the first, based on 1,910 isolates from 6 countries, C. albicans (41.36%) and C. tropicalis (25.45%) were the most common.4 This finding was confirmed in the second analysis, which included 861 isolates from 7 countries.5 Both studies found that the incidence of C. tropicalis was typically higher in tropical countries compared with more temperate areas. Furthermore, there were substantial variations between countries (Figure), with some of the less common species being observed more frequently in particular countries (eg, C. parapsilosis in Brunei and the Philippines, C. glabrata in Singapore).5  
Figure. Species distribution of Candida in 7 Asian countries5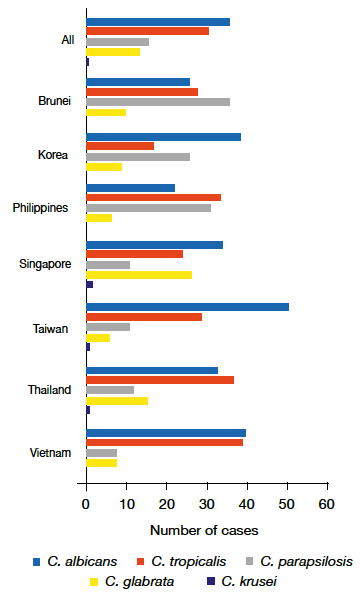 Improving future strategies for candidemia management
There are a number of ways in which candidemia management could be improved across many Asian countries:
Develop and implement diagnostic tools that are more widely available and have shorter turnaround time (for both identification and antifungal susceptibility);
Improve infection control;
Perform local epidemiology studies; and
Improve antifungal treatment, including greater access to echinocandins (particularly in light of recent evidence showing reduced susceptibility to fluconazole in non-albicans species in Asia5), greater education on appropriate drug selection, and improved antifungal stewardship.
Highlights of the Medical Mycology Training Network Conference, August 5–6, 2017, Kuala Lumpur, Malaysia.
References
Kullberg BJ, Arendrup MC. N Engl J Med 2015;373:1445-1456.
Chakrabarti A, et al. Intensive Care Med 2015;41:285-295.
Kaur H, Chakrabarti AJ. J Fungi 2017;3:41.
Tan BH, et al. Clin Microbiol Infect 2015;21:946-953.
Tan TY, et al. Med Mycol 2016;54:471-477.