The only regional hands-on medical mycology training meeting is back!
The MMTN Conference is organized by the International Society for Human and Animal Mycology (ISHAM) Asia Fungal Working Group (AFWG). This year's Regional MMTN marks the AFWG's first physical event since the COVID-19 pandemic, and is set to be held in Bangkok, Thailand, on August 4 – 6, 2023 at the Royal Orchid Sheraton Hotel.
As we resume onsite meetings, the AFWG seeks to engage the younger practitioners (in both the lab and clinic) in Asia.
Combining laboratory-based and clinical sessions, this weekend workshop is a unique opportunity for all those managing and working with invasive fungal infections. With sessions tailored to microbiologists, and clinical and laboratory professionals of all levels, this is an event not to be missed!
The program covers "foundational" elements on the first day; the sessions will then cover more state-of-the-art lectures for those seeking more advanced techniques and analysis on the second day – the plenary day. True to our goal to enhance collaboration and understanding between clinic and lab, the third day will be dedicated to collaboration – with discussions around stewardship and a focus on case-based learning from both perspectives.
Join our faculty of international experts and your peers to discuss and explore the challenges and latest developments in the ever-evolving practice of medical mycology in Asia and beyond.
International Faculty
Arunaloke Chakrabarti, Postgraduate Institute of Medical Education & Research, Chandigarh, India
Methee Chayakulkeeree, Siriraj Hospital, Mahidol University, Bangkok, Thailand
Yee-Chun Chen, National Taiwan University Hospital and National Health Research Institutes, Taiwan
Ariya Chindamporn, Chulalongkorn University, Bangkok, Thailand
Mitzi Chua, Cebu Institute of Medicine, Cebu City, Philippines
Low Lee Lee, Hospital Sultanah Bahiyah, Alor Setar, Malaysia
Atul Patel, Vedanta Institute of Medical Sciences, Ahmedabad, India
Ruoyu Li, Peking University First Hospital, Beijing, China
Pei-Lun Sun, Chang Gung Memorial Hospital, Linkou Branch, Taoyuan, Taiwan
Tan Ban Hock, Singapore General Hospital, Singapore
Sharon Chen, New South Wales Health Pathology, Westmead Hospital, New South Wales, Australia
Catriona Halliday, Institute for Clinical Pathology and Medical Research – NSW Health Pathology, Westmead Hospital, Australia
Malcolm Richardson, NHS Mycology Reference Centre Manchester, ECMM Centre of Excellence, United Kingdom
Register now on this web page or contact an industry partner should you wish to participate.
The scientific program is developed independently by the ISHAM Asia Fungal Working Group Scientific Committee.
---
Scientific Program
*This program is not final and subject to changes by the Organizer.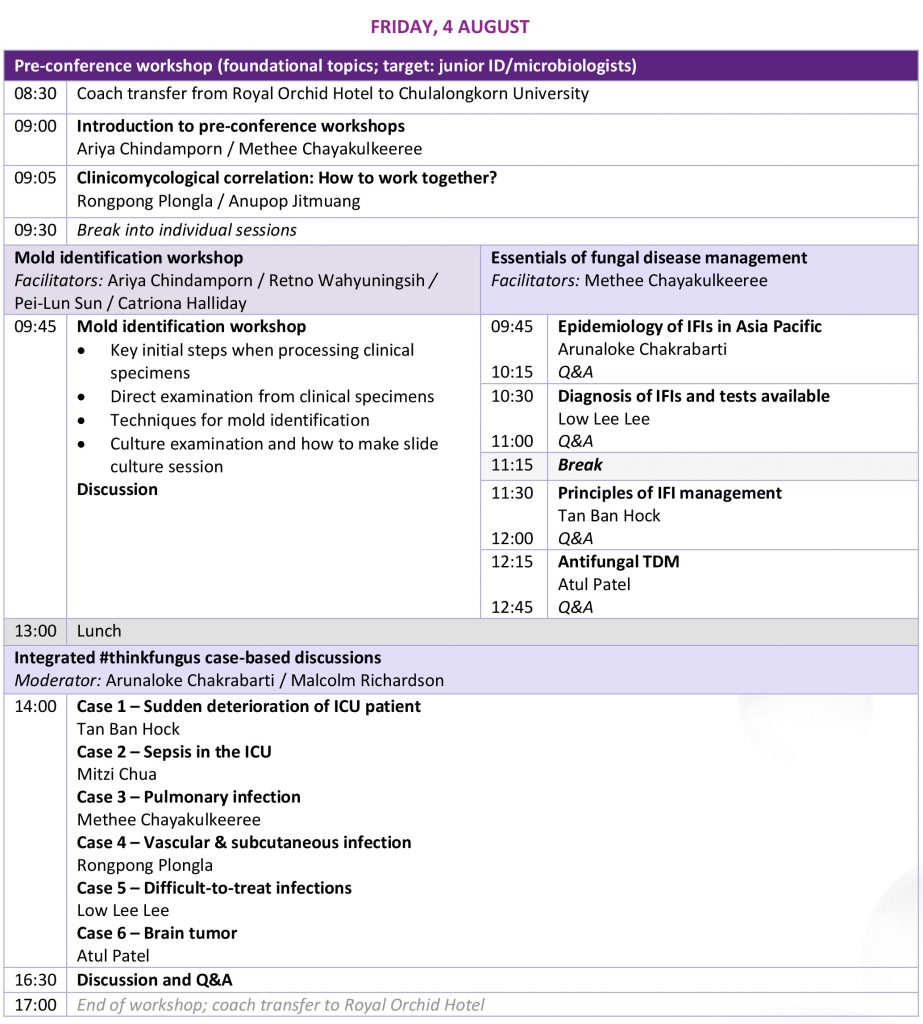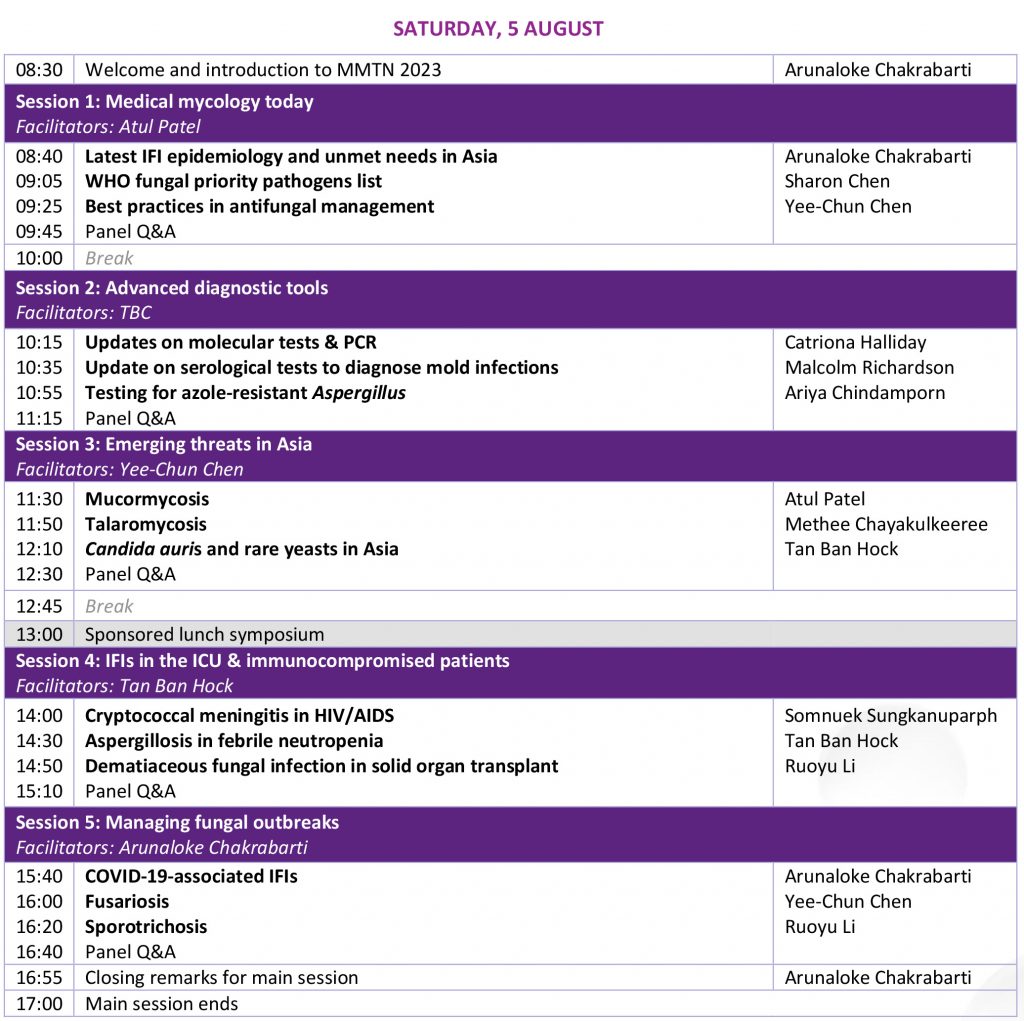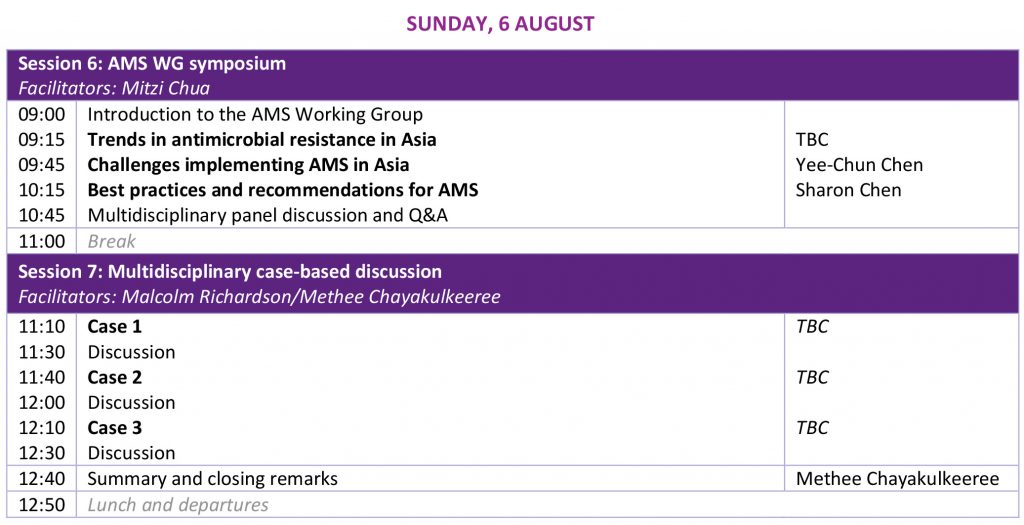 ---
Registration Categories

Early Bird

(on or before 15 June 2023)

Standard

(16 June – 3 August 2023)

On-site

(4–6 August 2023)

USD

USD

USD

ISHAM Members

$100

$150

$200

Non-ISHAM Members

$150

$200

$250

Young-ISHAM Members

$60

$90

$120

Physicians/ Scientists in-training

$80

$130

$180
To become an ISHAM member and enjoy discounted Meeting registration rates, apply here.
Important Note: All overseas delegates should proceed to make their own arrangement for hotel accommodation in Bangkok.
Back to Upcoming Events